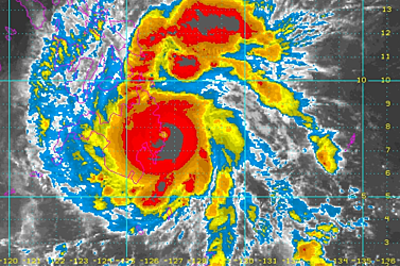 We would like to thank everyone for their prayers over the last 48 hrs during Typhoon Bopha. It was a tremendous miracle of God's protection in Davao City as our city was hardly touched when the eye of the Category 5 storm passed only 30 miles from us. It was amazingly calm where we live and we had no flooding at our house whatsoever. Although Davao City was mostly spared, we are hearing scattered reports coming from Compostela Valley (about 50 miles from here) of complete devastation. Getting terrible news from Compostela Valley is way better than the eerie silence from Davao Oriental which was the hardest hit section on the island. It is completely cut off and inaccessible at this time and only God knows the condition they are in there.
The official death toll from this dreadful storm has risen to 280, but many predict that this number will rise into the thousands. The gruesome images of the bodies strewn everywhere on the local TV News is too terrible to be shown on US television reports.
This afternoon we had a meeting with several other missions organizations in attempt to find where we can best serve those in need. We have pooled our resources and will be working with the Philippines Red Cross. The Red Cross has people on the ground assessing the situation today and will have a final plan by this evening or in the morning. The main issues is getting resources: Volunteers, food, water and shelter up to the areas affected.
Over the past 24 hours, crews have been clearing roads blocked by trees and landslides. While Davao Oriental is completely cut off, the Navy is sending a ship around to try and get aid into them. It should arrive tomorrow. As a group, our strategy is to provide supplies as well as transportation for PRC volunteers to and from the disaster zone. We have several personal vehicles enlisted to help including my little 1978 Mitusbishi Lancer, and even have secured the use of a four ton flat bed truck from BioSand Filters. With fuel costs at around $6.00 a gallon, our cost to transport volunteers and supplies will be expensive. The four ton truck  and other vehicles will only go if we have the money for fuel. Most missionaries here are also buying gas and supplies out of their own pockets to help.
We will be among the first to help with the local government about a week behind us. Our plan is to take this one step at a time and put our faith in the Lord that He will provide what we need as we go. We ask for you to prayerfully consider giving a donation to help with the aid in this time of crisis.
This is not our first disaster relief operation. We have been helping with this type of effort as an organization since the South Asia Tsunami of 2004. We also helped with Typhoon Ketsana in 2009, and with the Matina Flood last year. We really hate to see this type of disaster, but love to help people in need. Will you please help us help them by praying for us and praying about sending us an online donation?
You can also send donations in the mail to:
Extreme Mercy International P.O. Box 72266  Phoenix, AZ 85050 USA
One of my missionary friends left this morning to survey the damage and give out relief packages. He invited me to go with him, but I declined for some reason. He just texted his wife saying that that he won't make it home tonight because the lake overflowed and he is stranded on a hill in a flash flood. Please pray for his divine protection as he is trapped in a very dangerous situation. (Just Updated from my friend's Facebook: "Home Safe at 2am. Alot of Death on the road. It nearly got us too. More than a 1000 dead and missing. The news is not showing the full extent. I go out again tomorrow after I rest. Taking food and clothes" Praise God! Thank you for praying!)
Two of my best friends who are trained first responders also just left tonight to join the rescue operation in Nabunturan. Nabunturan is a place dear to our hearts as we ministered to many youth there before. We are still trying to contact the pastor of the church there to no avail.
I am hoping to physically join the relief operations up there in about a day. Please pray for the safety of the rescuers, missionaries, and for comfort for the families who have lost so much.
Feel free to contact me if you have any questions.
Consumed by the Call,
Matthew Triggs
P.S. Please forgive the appearance of our website as I was trying to update it when this disaster happened.