2 Corinthians 11:26 says, "I have been constantly on the move. I have been in danger from rivers, in danger from bandits, in danger from my fellow Jews, in danger from Gentiles; in danger in the city, in danger in the country, in danger at sea; and in danger from false believers."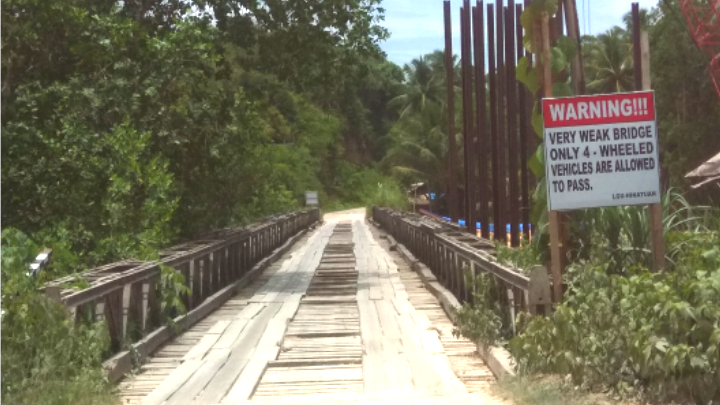 While driving in Mindanao the roads are perilous, not for the obvious lack of development, nor lack of guard rails on the mountains, nor the patched together failing bridges. There are real rebels with guns hiding in the jungle! We are under martial law for a reason. While on a ministry road trip with Emily and Elijah in the SUV on a remote gravel road, my inner and outer wheel bearings failed. The wheel literally came off the spindle on a jungle road known for NPA (communist) rebels. The NPA have been especially active this year. They actually burned down a food processing plant not far from our house earlier this year. There were large pieces of ash falling from the sky into our neighborhood from that fire. As I lost complete control of my steering and brakes as the wheel came off the spindle, I immediately began to pray. It was getting dark and we had no cell phone signal and no way to contact anyone we knew.
Thankfully, a local Barangay (community) leader shortly passed by in a pickup truck and offered to help us (This was a miracle). He was very helpful and took Emily and Elijah to a safe, remote hotel (on the beach!) to stay for the night while I stayed behind waiting for the local mechanics to arrive.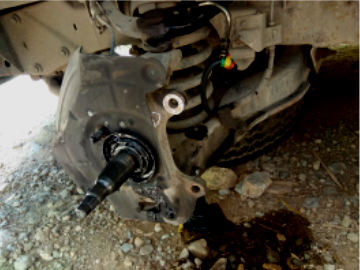 After disassembling the wheel from behind (one lug nut would not even come off), we managed to see which parts we needed to do a quick fix, but we had to wait until the next day to try to find parts. I arrived at the hotel hungry, frazzled, and stressed out unsure if we would be able to fix our SUV. After a sleepless night, I talked to the hotel owner who said he would often have the NPA rebels swim near his hotel and he would give them soft drinks to stay on their good side.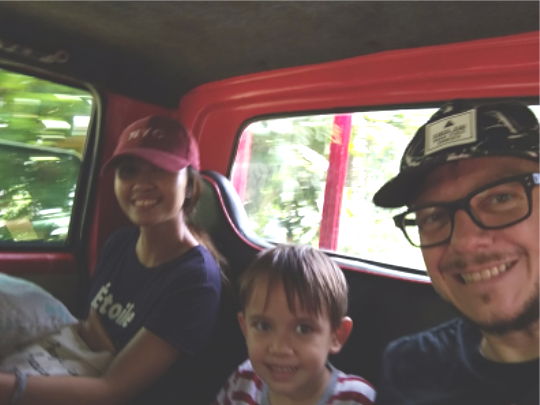 That morning the Barangay leader helped us into town where we found the last bearing in the shop that fit our vehicle! He then dropped us off at his compound near the paved highway where Emily and Elijah spent the day in a hot wooden hut. The mechanics and I then spent the day fixing the wheel on that jungle road. After several hours, we had the wheel back on and were ready to start it and the battery was dead! No cars or trucks would pass by for hours (to ask for a jump start), so we removed the battery and sent it into town on a scooter to get it a quick charge. After about an hour of sitting in the jungle, we got the battery back, and praise God it started! I picked up Emily and Elijah just before dark and started the treacherous five hour journey down the mountains with damaged brakes back to Davao City and we arrived home safely. As I write this, I am still waiting for the parts to arrive from the USA to fix the SUV properly, but I am overwhelmingly thankful.